Make your Greenwoods donation TODAY
Greenwoods Counseling and Referrals provides access to high-quality mental healthcare and related social services to adults and children in Litchfield County.  Last year we served almost 900 clients and provided 4,499 client sessions. With each passing month, the mental health needs of our community grow.
During the COVID-19 pandemic, there has been an alarming increase in rates of anxiety, depression, and substance use disorders.  Greenwoods provides services to those who need our help, regardless of their ability to pay.  We cannot do this alone, however.  We need your support.  Please consider a donation to Greenwoods to address mental health needs in our area.
Every dollar collected helps improve someone's life.
If you would like more information on Greenwoods Counseling and Referrals, please contact John Simoncelli, Executive Director, at 860-567-4437.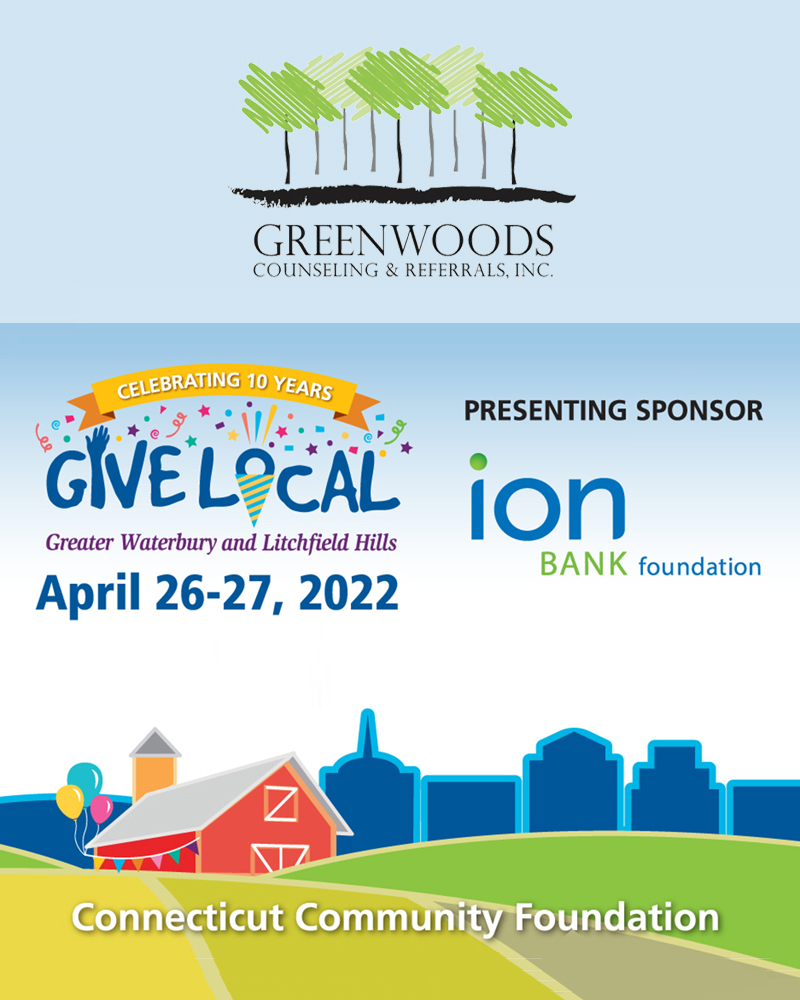 What is Give Local?
Give Local is a fun, 36-hour online campaign that unites donors, businesses, and local charities to provide much-needed support for our community.
Thanks to the Connecticut Community Foundation and its generous sponsors, nonprofits like Greenwoods will earn bonus dollars for every donor we secure – whether you give $10 or $10,000!  That means we need for you to spread the word to as many people as possible.
Our goal is get 100 different donors and raise $30,000.  That's what's needed to serve the challenging mental health needs in our area.
We can win prizes, too, and these are our targets:
First 5 gifts of $500 will get doubled (starting at 7 a.m. on Tuesday, April 26)
$1,000 prize – Litchfield County organization with the highest number of individual donors
$1,000 prize – any gift that comes in closest to midnight on Tues., April 26
$1,000 prize – any gift that comes in closest to sunrise (5:54 a.m. on Wed., April 27)
If you'd like to mail in your support, send it to 25 South Street, Litchfield, CT 06759.
All gifts are greatly appreciated!