Greenwoods Counseling Addresses Mental Health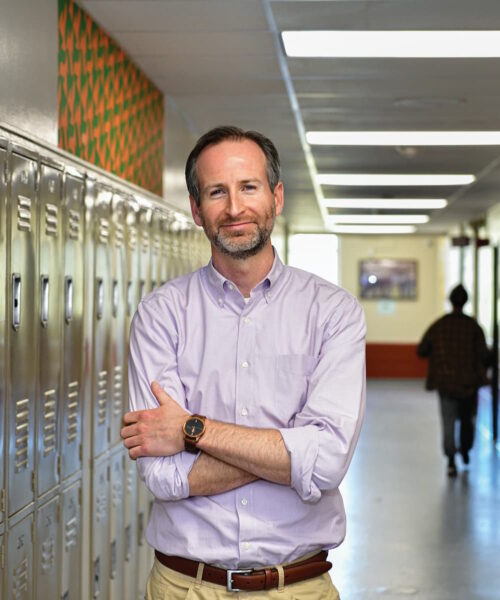 By Nancy McMillan
"I don't know if people really grasp that we have a mental health crisis in this country and Connecticut is not immune, especially during a pandemic," says John Simoncelli, Greenwoods Counseling & Referrals, Inc.'s Executive Director. "We've seen an enormous increase in suicide, anxiety, and drug use among our teens and adolescents."
Greenwoods has served Litchfield County from their offices in St. Michael's Church on South Street in Litchfield for three decades and continues to expand their mission and services to meet the mental health needs of county residents. Four years ago, they partnered with local schools to address the needs of young people.
Simoncelli, a licensed alcohol and drug counselor and a lifelong county resident, joined Greenwoods in 2017. A grant from an anonymous donor precipitated the establishment of the Youth Mental Health Program. During the first year, Greenwoods provided assessments and referrals for the students. The following year, the program extended its reach to include Litchfield public schools, Wamogo Regional School, and Oliver Wolcott Technical High School. Clinicians were placed in-house at Wamogo and at a private school in Goshen.
When licensed clinician Lucy Vail joined the staff at Wamogo, she built a full caseload in two weeks—it usually takes three to four months. Vail meets with students during the day; she offers counseling to Region 6 staff after school hours. In the fall of 2021, 18 months into COVID, demand for the latter service exploded.
Students in need of services are quickly identified and, once parental permission is gained—assessed. Vail collaborates with guidance counselors, teachers, social workers, nurses, admins, and student services to formulate a comprehensive approach to her clients. "I work for Greenwoods but see myself as part of this school community."
An essential factor in the program's success is clinician supervision by a neuropsychologist who specializes in adolescent behavior. Due to the unique nature of the developing teenage brain, clients may present an unusual collection of symptoms. The neuropsychologist brings several decades of experience to working with this age group.
"You can have a dramatic improvement in behavior in a short time, but you need the licensed clinician and the supervisor," says Simoncelli.
Success stories include a student who had been running away from home and not attending school and who is now with their family and succeeding in the classroom; another student felt alienated from teachers and staff and is now willing to accept assistance.
"It's all about helping the student arrive at the place where they are more available to take advantage of academic opportunities," adds Vail. "Our mental health program supports educational success."
However, Greenwoods cannot keep up with the need for services despite stretching dollars by, for example, utilizing graduate students as interns.
"Our staff is amazing!" Simoncelli says. "But our funds are maxed out."
Financing for the program comes through contracts with the school district, with the remainder generated from donors, who provide 40 percent of Greenwoods' total budget. Light the Way, the annual gala celebrating Greenwoods' 30th anniversary, takes place on Saturday, May 21, at Washington Town Hall. After a record amount raised last year, Simoncelli would love to see that number increase.
"Our vision is to meet every student's needs. Our schools aren't that big; with ample funding, we could meet that demand."
Source: Litchfield Magazine – Greenwoods Counseling Addresses Mental Health